You can choose one of our set templates, create your own, customize them, save them, and more!
Stormboard has hundreds of templates to choose from that cover everything from Agile business processes to project management to personal planning!
When you create a Storm, you will be able to choose to use a basic, blank template or one of the set templates available in our template picker. You can always change your template if you decide you would like to try something different.
All of our templates — whether they are basic, or a set business process — can be customized to suit your needs. Your subscription level dictates how much you are able to customize — visit our Pricing Page for more information
Note: The Startup and Business subscriptions come with a 30-day FREE trial. If you are currently on a Personal plan and would like to try out some of these features for free you can upgrade to the trial from our Pricing Page here.
Making Changes to a Template
In order to make any changes to a template, you will need to click on the pencil icon in the top corner of the section that you would like to edit.
A menu will open that gives you options to edit, resize, make the section the default section, split the template in half either the top/bottom or left/right, merge the section with another section, or add a sub-section.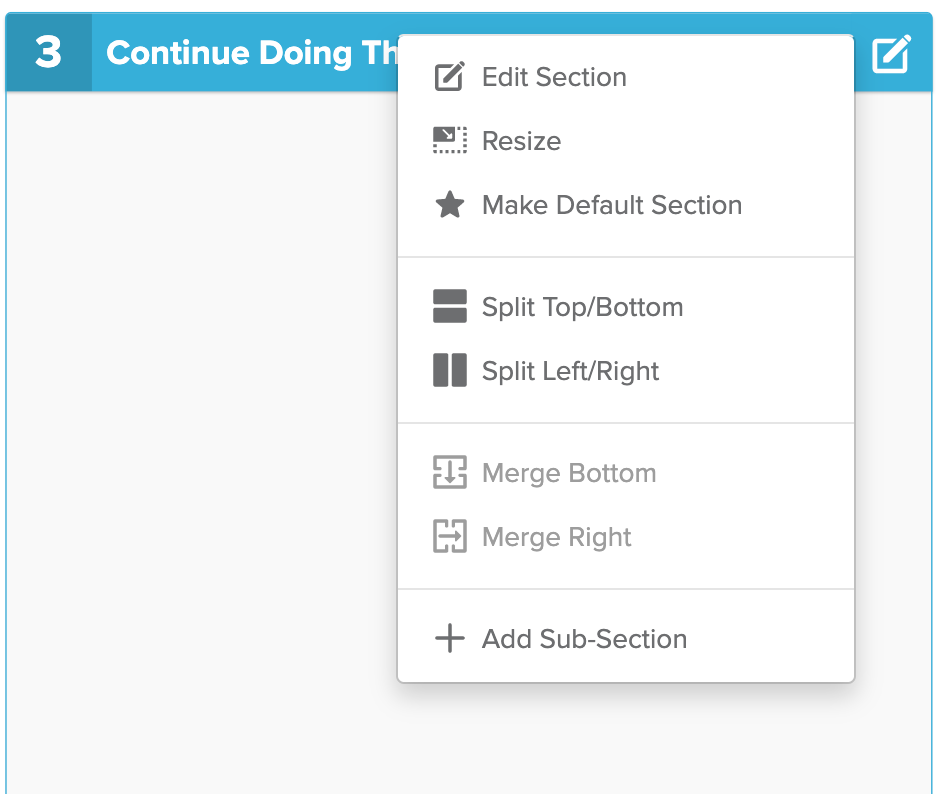 These help articles give you step-by-step instructions on how to change and customize a template to suit your needs:
You can resize sections in your Storm to make them bigger or smaller.
Learn how to change the title, color, number, and description of your section.
On top of changing the header color of your template (see the link above), you can also change the background of each section to a different color.
You can change each individual section of your template into a different type. There are five different types of sections that you can choose from. Custom processes can be accommodated by request as well.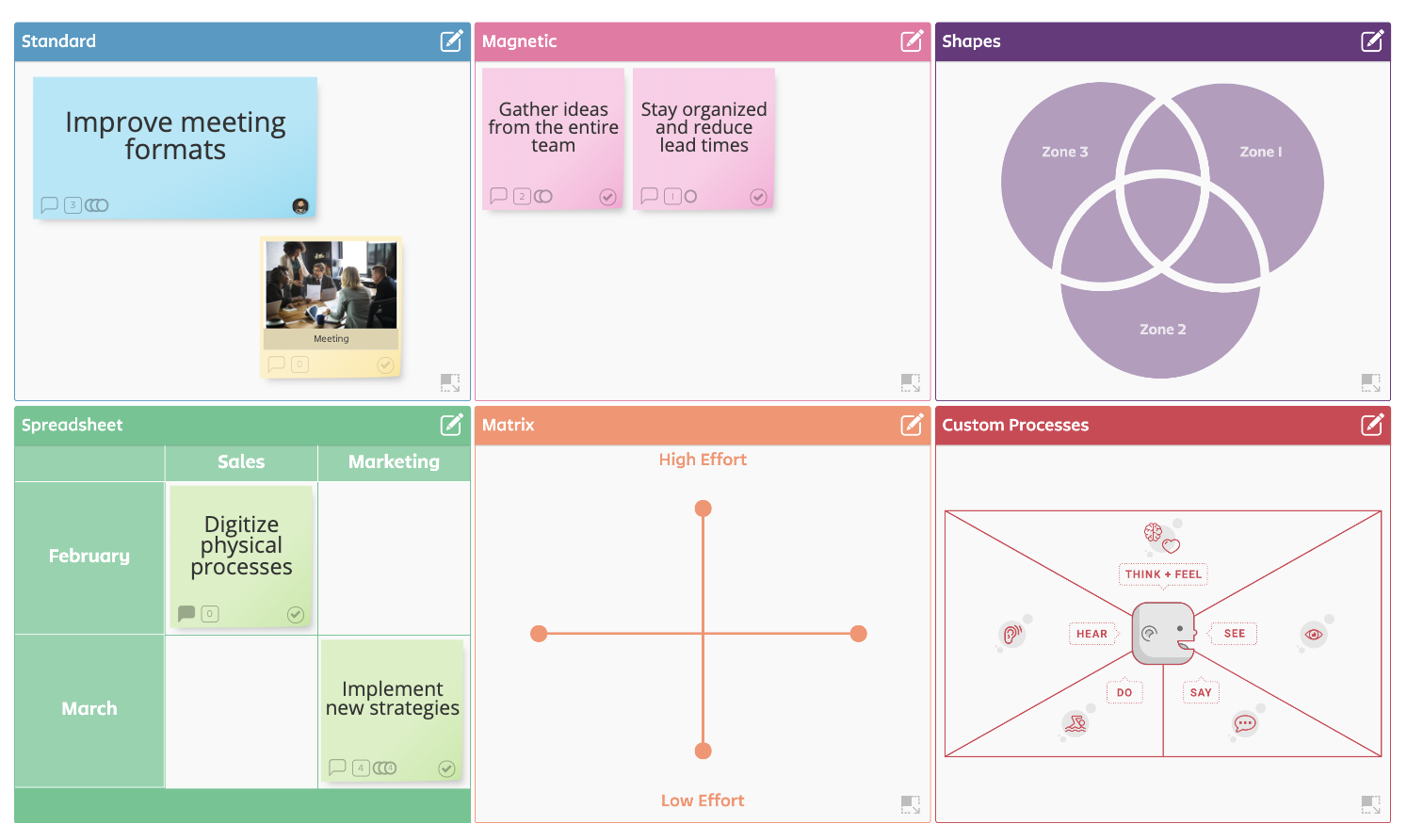 To add another section to an existing template, you can split one of your sections in half and then resize it.
While you can not delete sections, you can merge two sections together to make one section.
Sub-Sections divide a section of a template allowing you to organize more complex ideas.
Saving Your Customized Template
Once you've made all of the changes that you want to each section, you can save the template you created (see image below) so that you can use it for a different meeting or project.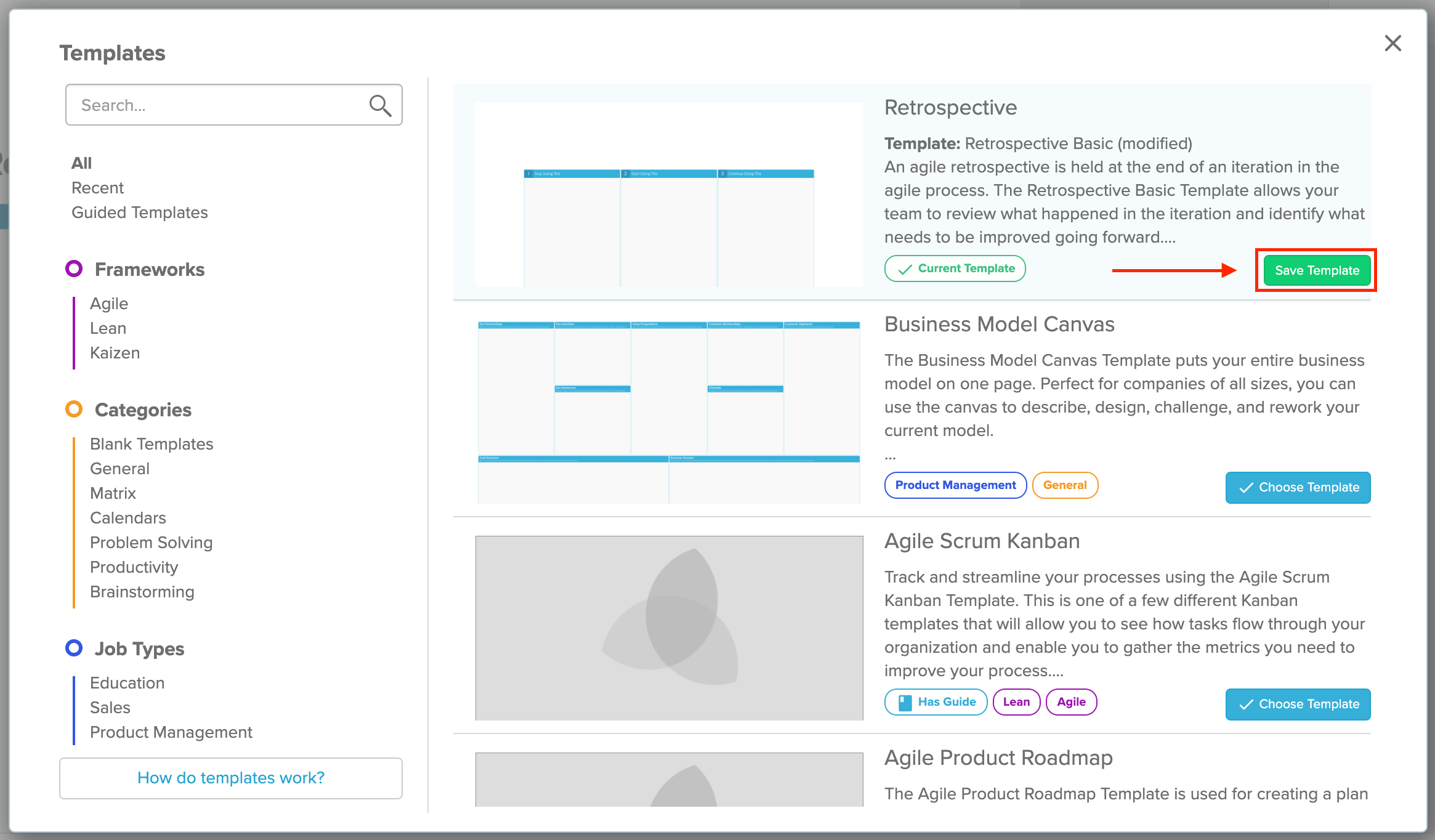 Follow the instructions in this article to learn how:
Enterprise and Branded Templates
We can create Enterprise Template(s) for your team! Some of the things we can do include:
Adding logos.

Personalizing colors and themes to integrate into your company's existing look and feel.

Changing the background.

Creating a guide that gives step-by-step instructions on a specific business process.

Customize reporting to create actionable reports specific to your processes

Generate visual templates using your custom work flows and processes

and more!
Once we build the template it will be private and available only to those on your team. Note that to order and use a custom template you must have an active team subscription.
The template will also integrate with Stormboard Reports, outputting all of your data to Excel, Word, PowerPoint, PDF and more.
Please contact us for more information on Enterprise and Branded Templates.


Also See: