Ideas generated using StormAI leverage the context of your Storm.
Ensure that a Team Administrator has enabled StormAI on your Team.

StormAI uses advanced AI algorithms to analyze the desired outcome of a workspace, and the existing content and workspace metadata (including headings, ideas, notes, and other information) to generate new and creative ideas.
To use StormAI to generate Sticky notes:
Access the Storm: Enter the desired Storm and click the StormAI icon located in the top right corner of the section where you want StormAI to generate Sticky Notes.
Template and Context: You can enter the context from the section's StormAI toolbar or from the Storm's settings menu. If the template was generated by StormAI and your goal and context for the Storm are already set, StormAI will create 5 Sticky Notes in the chosen section once you click on Generate Ideas. If no context is created, you can enter the context from the StormAI toolbar menu.




Configure StormAI: Under StormAI tab under the Storm's setting menu, complete the following steps:
A) Enable StormAI for this Storm.
B) You can enable Contributors to use StormAI.
C) You can also control if the Contributors of the Storm can enter the StormAI context for the Storm.
D) Provide the context in the text box. The more context you provide, the better the results.
E)Press Save Changes.



Generate Sticky Notes: Click on Generate Ideas from the StormAI toolbar in any section where you want to generate Sticky Notes. Sticky Notes created by StormAI will display a grey StormAI icon in the top left corner.

Regenerate AI-Generated Sections:
If a StormAI template contains an unrelated section, click 'Regenerate' at the top-right of the section to change it.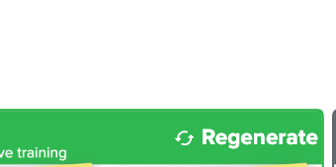 Have StormAI Display Title Recommendations for a Section:
Click '+Suggestions' beside the section name once you've added ideas. StormAI will access the section content and recommend titles related to it.