How do I focus the attention of active collaborators to a certain area of a Storm?
Use the 'Focus Everyone on My Position' action to bring all your participants together in one view.
With just the click of a button, the Storm Administrator can focus the screen of every participant in a Storm to show the same view that he/she is seeing.
This is a great way for the facilitator of a brainstorming session to make sure every collaborator is in the same area of the Storm.
Note: This option is only available when other users are logged into the Storm at the same time as the Storm Administrator.
To focus everyone's attention:
Click on the Actions button at the bottom of the screen.

Select Focus Everyone on My Position. You will see a message confirming this action: Focusing all users to your screen.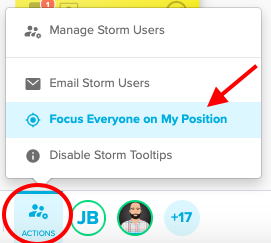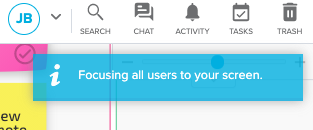 The Storm Administrator can perform this action as many times as they please.
Also See: