How do I comment on a sticky note?
All Storm Contributors can comment in each other's sticky notes.
Every sticky has its own comment thread. Everyone in a Storm can comment on any sticky and there is no limit on the number of comments per sticky.

Click on the conversation bubble icon on the bottom left hand corner of any sticky.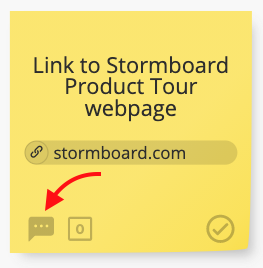 2. A new window will open where you can type your comment. Click the paper airplane symbol in the bottom right corner or press enter when you are done.

3. People in the Storm can be "@" tagged to be notified that there is a new comment for them to pay attention to